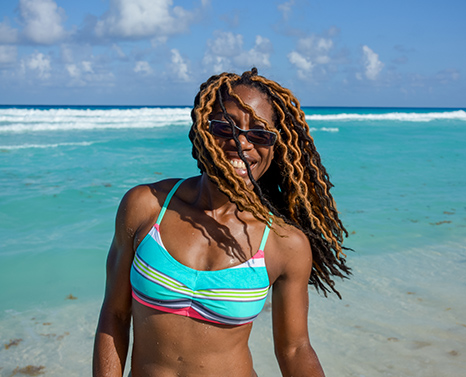 I feel like I've lived 3 lives - I'm British, born in London, England; I'm Nigerian, a classic middle child of five and now I live in Dallas, Texas. I've lived on three continents! I feel like I speak three languages, the only thing is, they are all English.
I was a bit of a tomboy as a child. If I wasn't climbing a tree, I was thinking of it. I was drawn towards the novelty type kiddie sports – egg and spoon race, sack race, thread the needle race! I have always liked the offbeat, different. Little did I know this was setting me up to discover and pursue my passion for fitness my way.
I'm a "40 something year old" and I enjoy my workouts! The sky could be falling but my class is at 6pm. Fitness is such a huge industry now, to some people it might as well be an F word, to me fitness was always just "exercising". With the rise of boutique fitness studios and online programs in addition to traditional gyms, there's something for everyone and more ways to get your fit on.
My earliest memory of seeing a workout was Jane Fonda's music video "Let's get physical" circa 1981. Pink leotards, head bands, catchy tune, I was all for it. They were smiling, cute, "dancing" and I wanted that fun! From that day, I associated exercise, the gym, fitness…. as a "fun" thing to do. It's now a part of my lifestyle, like going to the movies or brunch. I wasn't looking to lose weight or for a beach body - I can't swim! (I know, black woman stereotype!). Every few years I would try something new. I was getting fitter without realizing it.
That's what smileFIT is about. Just do what you love, do you, have fun with it, believe in it, stay the course and you WILL be rewarded with a healthier, fitter you!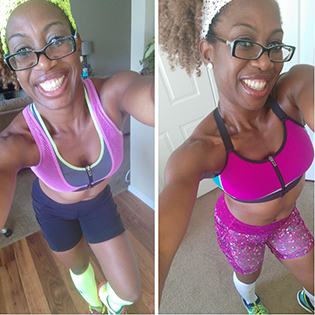 In February 2017, my mum passed away and I struggled with focus and lethargy for months. Any little thing could send me crying or paralyze my mind. I was imploding from years of holding "stuff" in. I was depressed and it wasn't the first time either. This time I was referred to a therapist. All the stereotypes apply here again – black, African, why can't you just pray yourself out of it? Etc. Accepting that I needed "professional help" was nerve wracking, what parts of me am I going to let a stranger see? Yikes. Therapy was the best thing I could've done. I got the help I needed when I needed it. This is why I can smile now.
In April 2018, while in Mexico for a half marathon and vacation (a "fitcation"!), I was offered an impromptu photo shoot on the beach. I had a bikini and a cover up on, no make- up. Why not I thought? The photographer said "have fun with it", so I did! Friends, (we are friends now aren't we?), I have a thick dark scar from my belly button down to my nethers, from a 2014 fibroid operation. I have never worn a bikini "outside" since then. I threw off the cover-up, channeled my inner super model and wore my skin with confidence! Proud and happy of how far I've come and where I am. I share some of these photos – no photo shop, no touch ups.
smileFIT is fitness of the mind – it is confidence, commitment, focus, finding out what works for you, finding out what works for your lifestyle and how to make fitness fit your present situation.
smileFIT is about making you feel good, whatever you wear, wherever you are. It's non-judgmental, encouraging, motivating, inspiring, empowering, it's your own personal cheerleader and accountability partner!
smileFIT is the answer to anyone who has shied away from exercising because it all looks like work and drudgery. It is a way to help you tap into what you love and actually enjoy the process of becoming your healthiest, sexiest and most confident self!
smileFIT is liberation! Bringing out that smile within you, not just for the camera. It's doing what you want to do, for you. Not caring about what the next person is doing, not comparing yourself to what are others doing. It's not about wearing the latest or most expensive gear. It's about trying something new, changing whatever preconceived notions you had about fitness or being fit.
Sisters! Are you struggling to get fit and know you want a better quality of life? smileFIT is for you! Being fit is not all about losing weight, losing body fat, gaining muscle or getting a bikini bod. Neither does healthy eating mean eating bland food, drinking your food, lettuce for lunch, not having dessert, low carb, no carb, more protein, less fat or other food news of the month. With fitness as lifestyle, I've not had to deny myself the treats I love! Eat right and exercise regularly, that's the key.
I've learnt one of the biggest reasons people quit an exercise program is lack of enjoyment. Some find it even harder to start. Over the years, I have discovered and learnt "how" to work out and what works. I have a strategy for everything! I've also created a roadmap to help others figure out what works for them too.
It's all about keeping fit and rocking your smile in the process!
Be fitter, one smile at a time. First, just "smile".
E
at and
E
stablish a fitness routine.
Join the smileFIT movement! I can't wait to see your #smilefit photos and videos, let's do this!
Be a smile fitter, join the tribe!
Sign up with your email address to receive the latest news, tips and updates